Discussion Starter
·
#1
·
Back Left Seat Stuck Down? Here is how to fix it yourself! You will need a 18mm box wrench. Use something to prop up the seat a bit from the floor so you can reach in.
Slip your arm in with the wrench and slide the box end over the nut that holds the seat belt.
Sensitive content, not recommended for those under 18
Show Content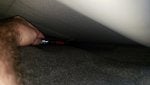 You will not be able to see the nut so this all by feel. Pull the wrench toward you (left turn). You can only get about a 1/8 turn and then reset the wrench. Be patient, it takes about 4 full turns to get it off. Once you have the nut off you can lift the seat belt retainer off of the bolt. Now you can raise the seat. Now you should be able to get enough slack to pull the seat belt out and re-secure it. Use a chip clip or similar item to keep the seat belt from retracting when folding the seat down to prevent this from happening again.